Coventry
Massey Ferguson Sports & Social Club
Broad Lane, Coventry, CV5 7NL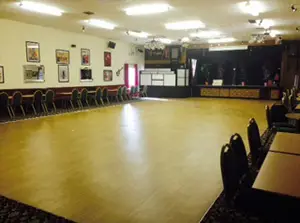 Book Your Salsa Course at Massey Ferguson Sports & Social Club Coventry
All of our Salsa courses are 8 weeks.
Course Start Dates
If you decide to join this course we recommended no later than the 3rd week.
Next Course
We recommend this cycle if you are joining after the 3rd week of the current cycle
Salsa levels at this venue
Select your course type below and choose the start date of the course you want to join.
About Massey Ferguson Sports & Social Club
Ideally located to the North West of Coventry City Centre, just 10 minutes from Coventry City Centre. Located just off the A45 so great lines to the M42 (Birmingham) within 20 minutes and the A46 (Leamington Spa and Warwick) just 30 minutes away. Makes this venue a central location for the West Midlands.
A popular venue in Coventry with a well known history in being a friendly club with a fantastic wooden dance floor, which has been recently refurbished, with all the other facilities you would expect from a great dance venue, a great bar and a large secure car park onsite.
The venue is easy to find and the only place in Coventry to dance Cuban Salsa, come and enjoy the Cuban atmosphere every Thursday night. Havana-Salsa will bring their usual taste of Cuba to you – providing the latest tunes straight from Cuba, Havana-Salsa teachers from across the globe will teach in a fun and professional way allowing you to dance the passion that is Cuban Salsa in no time.
The only way to kick start your weekends here in Coventry is here with Havana Salsa!
Find Massey Ferguson Sports & Social Club
Broad Lane, Coventry, CV5 7NL
Also at this venue
Each week Havana Salsa holds its regular social parties around the UK for salsero's at all levels to come together, practice their new skills on the dancefloor and just have a fun night soaking up the Cuban spirit.
All of our regular socials begin with introductory classes in Salsa, Bachata and Rueda's. If you're a little shy, it's the perfect way to get to know everyone in the room before our live Latin DJ get's the music going and the dancing really starts.
Salsa Social Nights at Massey Ferguson Sports & Social Club